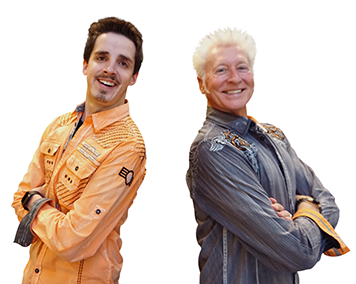 Chris & Neal are the most sought after, and busiest family magicians of the Carolinas and have been nicknamed Carolina's Most Popular Magicians. Their business as full time magicians has been built from their 5 star reputation as well as their commitment to customer excellence. Here is what sets them apart and above all others.
The North Carolina based PeeDee Post recently titled Chris & Neal as "Carolina's Most Popular Magicians", and their enthusiastic client/fan base seems to agree! Chris & Neal performed in Rockingham on October 30th at the Leath Memorial Public Library fall event. The turnout, well exceeding 500 children and parents, was more than expected. In fact, many parents were urged to leave the room in an effort to accommodate more children. Clearly, the magic show was a BIG success.
Kevin Spradlin of the PeeDee Post said through the use of their live doves, and rabbit, coupled with "upbeat music and an engaging set of personalities, Chris and Neal helped the audience through the 50-minute show with a flair for the dramatic", Spradlin continued, "Chris and Neal wow the crowd with rockstar magic you have to see to believe".
Chris and Neal have also recently performed multiple events for Reality TV Stars, Ronnie and Amy, of the hit show "Lizard Lick Towing" on the TruTV Network. Chris and Neal were invited to entertain at their sons birthday party in January. After Ronnie and Amy saw the act in person, they knew it was nothing short of spectacular. Ronnie scheduled Chris and Neal to perform at the Lizard Lick Fall Festival in October and the crowd response was out of this world!
Experience the difference as Rockstar Magic provides a high-energy blend of outstanding showmanship, great stage presence, surprising versatility, fun-filled audience participation, flashy costumes and a host of amazing illusions all accompanied by powerful pre-recorded show music as Chris and Neal take their audience on a magical journey of wonder, mystery, drama, danger & adventure!
World class and pulse pounding entertainment from Rockstar Magic that will leave the audience on the edge of their seats. With their captivating & dynamic personalities, Chris and Neal continue to be a guaranteed crowd-pleaser year after year for the entire family – Chris and Neal are truly seasoned, polished performers with a proven track record of extreme excellence!
As one of the most in demand and favorite family entertainment acts of the Carolinas, Rockstar Magic has helped countless clients create successful, energetic events that are full of laughter, spectacle and supersonic excitement. Don't settle for less when you can book the best.